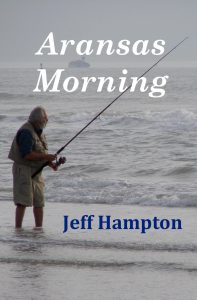 By now you know that I've been writing a while with four books on my shelf – and maybe on yours as well. But sometimes life throws a writer something that he or she can't let go of, and over time, it can turn into a book. In my case, the book is Aransas Morning, a story of redemption and family set in the Gulf Coast town of Port Aransas, Texas.
Though not in print yet, I initially made Aransas Morning available for reading on Authonomy.com, a web site sponsored by HarperCollins Publishers for authors looking for feedback on their books and ultimately a publisher. Sadly, the site was closed at the end of September, but out of 1,000 manuscripts on the site it was ranked as high as 7th at one time and closed at 42 among fiction works and 179 among all manuscripts. And the site didn't close before the book gained some readers and a few comments:
"In this heartwarming book, Jeff Hampton took me to a place I've never been and captured me with his delightful characters, seaside landscape, and deft use of words to portray a small group of people who came together to create and run the "Dream Bean" cafe. Great summer reading."
"I loved the characters, with their flaws and their graces. It is an honest and heart-warming story of redemption coming through community. I'm really glad I read it."
"Really nice character development, articulating in a very comfortable and readable style the messy, complex, joyous and hopeful ways we build, break and nurture 'community.'"
"Very quickly in the story, the characters became like friends. The book is engaging and held my interest."
The Journey to Aransas Morning
The journey to Aransas Morning began with a trip to Port Aransas on the first anniversary of my first wife's death. I was standing on the beach at dawn to watch the sunrise when a man walked up to me and asked, "What do you see?" I said, "The love of God," and then I explained the reason I was there. He said, "I lost my girl too. I lost everything," and then he walked away. I never saw him again, but he stayed in my mind. I began to imagine what his story was and I wrote a short story. And that was that, until several people read it and insisted that there was more to the story. They kept pressing and I started writing and sure enough, there was more to the story and it is Aransas Morning.
Excerpts