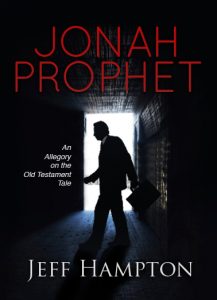 Jonah Prophet
An Allegory on the Old Testament Tale
By Jeff Hampton
When business consultant Jonah Prophet is asked by the mysterious magnate King Lord to go and fix Nineveh Corporation, he refuses and goes to Tarshish Manufacturing instead. But his work there is sabotaged and he soon learns that King Lord is the one pulling the strings.
Set in the modern business world, Jonah Prophet is an allegory on the Old Testament story of Jonah. While there is no giant fish in this retelling, Jonah is swallowed up in a journey that challenges his faith and tests his obedience.
Jonah Prophet is available online at Amazon, Barnes & Noble, Books-A-Million, Family Christian, Tower and Schuler Books. The book is available in both paperback and eBook.
If you missed one of our book signings and still would like a signed copy of Jonah Prophet, you can always get it from me right here:  Jonah Prophet