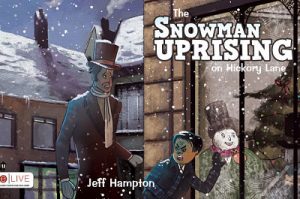 The Snowman Uprising on Hickory Lane
By Jeff Hampton
Franky Fletcher and his bicycle gang don't realize how much trouble they are stirring up when they attack Buster Biggle with snowballs on a wintery night. Things go missing, snowmen begin to appear, and they find themselves left out in the cold in this whimsical tale about what can happen when you pester the wrong person.
The Snowman Uprising on Hickory Lane is available online at Amazon, Barnes & Noble, Books-A-Million, Tower, Powell's Books and Schuler Books. The book is available in both paperback and eBook.
An access code for a free audio book download is located inside the back of each book.
If you missed one of our book signings and still would like a signed copy  for yourself or as a gift, you can always get it from me right here: The Snowman Uprising on Hickory Lane